"Carlos Rodriguez" is a main character from the Disney+ series High School Musical: The Musical: The Series. He is portrayed by Frankie A. Rodriguez.
Carlos is captain of the color guard and the student choreographer of East High's school production of High School Musical. Beyoncé is his iPhone lock screen wallpaper, and he already has his Tony Award for Best Choreography speech written out. Carlos thinks of the drama teacher as a peer — he eats lunch in her office, and has been drinking espresso since 3rd grade. Through all of this, even Carlos still sleeps with a stuffed elephant and is terrified of failure. His most-used app is Starbucks. Carlos is gay and Mexican.
Personality
Carlos is bold and confident. He'll work as hard as necessary to achieve his dreams, even if times are hard. At the same time, though, Carlos is shown to doubt himself and to have trouble standing up to characters like EJ. In the first season, Carlos struggles to connect with his peers while juggling being both their choreographer and close to Miss Jenn. It's said he didn't have friends before the school's production of High School Musical: The Musical began, and this isolation is evident in the beginning of the series. However, by opening night of the musical, he appears to be close with many of his classmates and even has a boyfriend (Seb Matthew-Smith).
Biography
Season 1
The Auditions
The Read-Through
The Wonderstudies
Blocking
Homecoming
What Team?
Thanksgiving
The Tech Rehearsal
Opening Night
Act Two
Relationships
Main Article: Carlos and Seb
Trivia
He can speak Spanish.
He has only seen the first 15 minutes of both High School Musical 2 and 3
He is the Captain of the Color Guard.
Quotes
"Tornadoes come and go. Dance is forever!"
"Count your blessings and dance your heart out."
"There hasn't been traffic here since the 2002 Winter Olympics."
"You smile, you leave the Earth, you land."
"She was the first teacher to not see me as a punchline."
"Bop to the sky, baby!"
"Do you know what a forest of trees looks like?" [Nini: "I do"] "Okay, but with boys."
"She gave me a shot...and it's been a long time since someone gave me a shot."
Gallery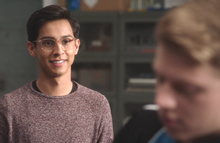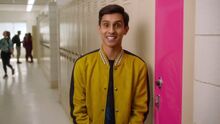 Community content is available under
CC-BY-SA
unless otherwise noted.