Carlos and Seb are characters from High School Musical: The Musical: The Series. They begin a relationship after Carlos asks Seb to be his homecoming date.
Background
It is believed that Seb and Carlos knew each other before the start of season one.
Episodes
"The Auditions"
During the audition line-up, Miss Jenn initially asks Seb to play Ryan, but Carlos tells her he thinks Seb would rather play Sharpay. Seb grins proudly in response.  
"Homecoming"
At the beginning of the episode, the pair is seen dancing together to the instrumental of Bop to the Top. Later on, the pair is seen talking. The conversation ends with Carlos asking Seb to homecoming. Seb stays silent until eventually telling Carlos to send him a pic of what he's wearing. Seb ends up showing up three hours late. Seb apologizes for being late and says his family lost one of their cows and he had no cell service at the barn to text. Carlos says he's sorry about his cow and they slow dance together.
"What Team?"
Seb comforts Carlos in the wake of hearing Miss Jenn might get fired. In a photo from a deleted scene, they appear to have a moment alone where they talk about it together.
"Thanksgiving"
Carlos calls Seb "honey" during their game of High School Musical: The Choosical.
"Act Two"
Carlos kisses Seb on the cheek when encouraging him to overcome a sudden burst of stage fright. In photos from a deleted scene, they are shown smiling while holding hands. In another unaired moment, Carlos gives Seb a bouquet of rainbow-colored flowers. Later (presumably), they two propose another round of High School Musical: The Choosical at the cast's after party.
Gallery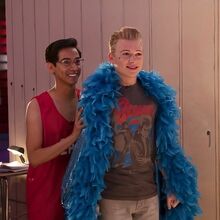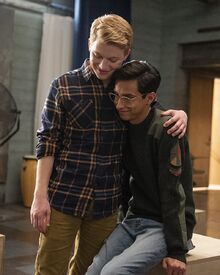 Community content is available under
CC-BY-SA
unless otherwise noted.