"Seb Matthew-Smith" is a main character from the Disney+ series High School Musical: The Musical: The Series. He is portrayed by Joe Serafini.
Personality
Despite a show-stopping performance as Sharpay, Seb happens to be quite introverted. His polite and caring nature makes him fairly likable among his peers. At times, Seb can be a little naive.
Biography
Season 1
The Auditions
Seb can be seen in line for people that want to join the musical. Miss Jenn thinks he'll audition for the role of Ryan. Carlos says that he would rather play Sharpay. Seb nods and Miss Jenn agrees that the gender-bent version of the role would be interesting for the show.
The Read Through
Seb gets up from his seat at the read-through to talk to Ashlyn. He compliments her glasses, saying that he has the same ones at home. After Ashlyn asks him why, he tells her it's to help him see better when he's milking one of his cows. This cuts to a confessional where Seb explains to the audience that he stands out in his farming family.
Homecoming
Carlos helps Seb with the Sharpay choreography via a private dance session. Afterwards, Carlos asks him to homecoming. Seb agrees, but arrives three hours late after his family loses one of their cows.
Opening Night
Seb performs as Sharpay in their school production of High School Musical. He sings and dances to "Stick to the Status Quo." with Rico during Act I.
Act Two
Seb is unsure if he can perform "Bop to the Top" in Act II because his large family waits eagerly for him in the bleachers. He tells Carlos, who gives him a kiss on the cheek and tells him that no one else can do it as well as he can. With a newfound confidence, he walks onto the stage and performs.
Relationships
Trivia
He's gay and his family is very supportive about his sexuality as shown in Act Two.
He and his family live/work on a farm.
The actor who plays him, Joe Serafini, has been upped to series regular in Season Two of the series.
Quotes
"Then it'll be easier to find him... if he smiles!"
"They raise cattle and sheep. I just wanna raise the roof!"
"You make me look the way I feel."
"Is that a garage door opener?"
Gallery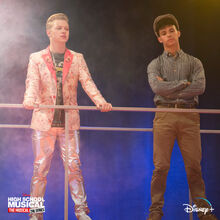 Community content is available under
CC-BY-SA
unless otherwise noted.